Strategic Capitalization Advisor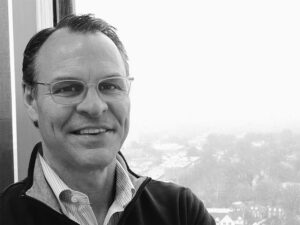 Managing Partner
Mr. Spener has over 30 years of experience providing capital solutions to venture-backed, middle-market, and large-cap companies in pursuit of value creation through organic growth, special projects, acquisitions, and restructurings. He has served institutional platforms, as well as private partnership firms in leadership roles as a principal underwriter, lender, investor, advisor, and arranger of debt, equity, and structured investments.
While living in New York City, Todd served on the Board of Deacons of Fifth Avenue Presbyterian Church.Today, he serves on the executive board of University City Children's Center and LUME Institute, Business Retention and Expansion Committee for St. Louis Economic Development Partnership, and the advisory council for U.S. China International Institute.
Todd and his wife, Tricia, are raising two young children, Kate and TJ. He is a sports and fitness enthusiast, avid reader of non-fiction, and has a passion for food, wine, and travel.
---
---
| Company Type | Number of Transactions | Transaction Size | Financing Commitments |
| --- | --- | --- | --- |
| Venture | 49 | $328M | $309M |
| Lower Middle Market | 12 | $355M | $341M |
| Middle Market | 14 | $2.68B | $2.17B |
| Large Cap | 2 | $23B | $420M |
| Project Financing | 12 | $434M | $121M |
| Tax Exempt Financing | 8 | $262M | $262M |
| Equipment Financing | 87 | $285M | $285M |
| Restaurant, Retail, Real Estate | 27 | $170M | $150M |
| TOTAL | 238 | $27.81B | $4.28B |
---
Professional Experience
VENMARK CAPITAL ADVISORS LLC
Mr. Spener formed Venmark Capital Advisors, LLC in 2015 to provide capital advisory services to closely-held middle-market companies and capital providers.  Prior to forming Venmark, he served as Managing Director for two years with FTL Capital (Lewis & Clark Capital ), an independent private equity sponsor and family investment office. 
GE CAPITAL CORPORATION
Todd Spener has cultivated a broad range of capital market relationships across the institutional lending, private equity, and venture capital communities – including General Electric Capital Corporation, which relocated him from New York City to St. Louis in 2006 to serve as Senior Vice President of its newly aligned Corporate Finance group.  In this role, he led the way to re-establish an important Midwest regional office by growing its structured lending and investment portfolios. 
In 2008, GE Capital nominated and sponsored Todd for the Executive MBA ("EMBA") program at the Olin School of Business at Washington University in St. Louis.  Upon completing the program, GE Capital tapped him for a national role in its Corporate Finance group as Managing Director – Strategic Marketing and Business Development where he was responsible for developing and implementing leverage finance, uni-tranche, enterprise and cash-flow lending strategies across the U.S., resulting in significant year-over-year growth in newly originated loans and investments, expanded profit margins (spreads), and improved underwriting, processing, and portfolio management KPI's ("key performance indicators").  
BELL ATLANTIC CAPITAL CORPORATION
Todd started his career in corporate finance with Bell Atlantic Capital Corporation in Dallas, Texas, after earning a Bachelor of Business Administration degree from the Neeley School of Business at Texas Christian University in Ft. Worth, Texas.  Bell Atlantic hired him into its commercial credit underwriting and training program where he originated and closed equipment leasing transactions, real estate loans, and project financings.  After two years in Dallas, Bell Atlantic Capital relocated Todd to the Washington, D.C. area as part of its leadership training and management development program.  He served Bell Atlantic Capital, Bell Atlantic Network Services, and Bell Atlantic International for 10 years in various management roles.
CHIEF FINANCIAL OFFICER    |    VENTURE CAPITAL MARKETS    |    INVESTMENT BANKING 
After Bell Atlantic, Todd was hired as Vice President & Chief Financial Officer by Optex Communications Corporation, a development-stage information storage technology company where he managed capitalization and capital raising initiatives, along with day-to-day administrative, accounting, and finance operations.  In 1996, Todd relocated to New York City where he joined Charter Financial, Inc., a specialty finance company backed by E. M. Warburg Pincus, as its Vice President & Division Head of its Capital Markets Finance group.  He helped to establish, manage, and grow the firm's venture debt capital division and portfolio.  Charter Financial was later acquired by Wells Fargo, and Todd subsequently joined the investment banking firm of Carreden Group, Incorporated as Managing Director. 
©2022 Venmark Capital Partners

Venmark Capital Advisors, LLC is not a Financial Industry Regulatory Association ("FINRA") registered broker-dealer and is not a Securities and Exchange Commission registered investment advisor.